THROUGH THE ART PROGRAM,
ART & TECH TALENT IS SUPPORTED.

In an increasingly sales driven art market, THE WYE ART PROGRAM strives to celebrate the newly forming nexus of Art & Tech not yet fully defined nor commercialized. International and local, emerging and established professionals are curated together to make new connections between the best pioneering fields of Arts, Sciences and Engineering.
The talents, works and ideas presented side by side give insight into the vanguard of our contemporary, creative future – inquiring into the significant questions of our time regarding culture and society.
From public performances by Ken Butler to avant-garde installations by Ryan Wolfe, monthly solo shows featuring the Berlin art world's rising stars, guest curators exhibiting the infamous, workshops engaging at-risk youth in Public Art lead and symposiums bringing digital platform leaders to a single stage for the first time - THE WYE ART PROGRAM consistently works to redefine both the concept and the experience of Art & Tech in the modern age.
In addition to engaging with Berlin audiences at the frontier of art and technology THE WYE ART PROGRAM produces exhibits abroad to further connect Art & Tech leaders globally such as Cyberfest (Berlin, NYC, and The Hermitage Museum in St Petersburg), Berlin Days Tokyo (Roppongi Hills in Tokyo), and Time Traveler (IMAL in Brussels, Empire Project in Istanbul) among others.
THE WYE ART PROGRAM is the initiative of a registered nonprofit, UPSILON e.V.
UPSILON Mission Statement >
ART PROGRAM: HIGHLIGHTED EVENTS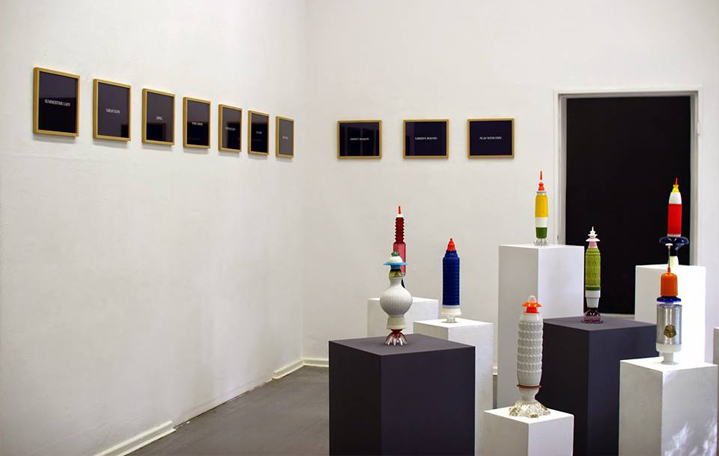 EXHIBIT: 4 SOLO SHOWS
Hannah Hallermann, ATB Collective, Silke Koch & Boris Eldagsen at Kunstquartier Bethanien, 2014
The exhibit "4 Solo Shows" offers a rich survey of new work by Berlin's rising stars via four simultaneous solo shows under one roof. Hannah Hallermann's minimal yet monumental "Godspeed" meditates on restrictions, self-inflicted boundaries and limits of individual freedom. ATB Collective surveys the power and potential of abstraction, surrealism and formal expressionism through playful evocations of lunch meat, fear, monsters, girl gangs and paradise.

 Silke Koch explores manifestations of myth and desire through conceptual photographs of sculptural representations of space vehicles. Boris Eldagsen plumbs depths of unconsciousness, archetypal and unspoken via haunting, hallucinogenic photo and video work.
Read more... >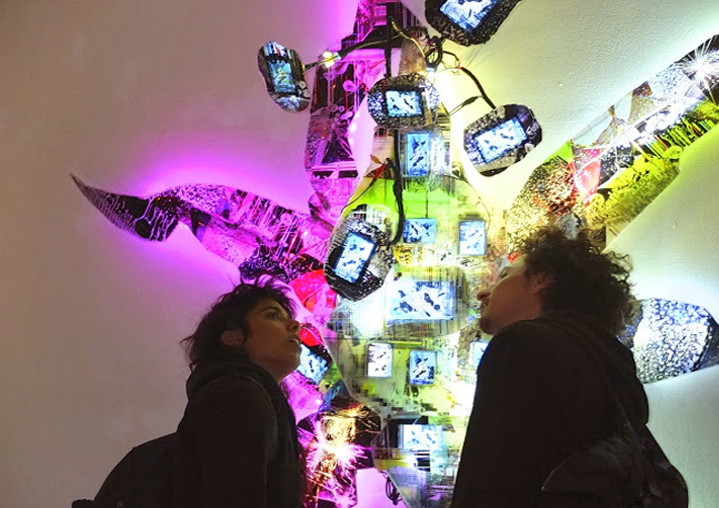 PUBLIC ART: AESTHETICS OF DECAY
artwork by Disney Nasa Borg for THE WYE, 2013
A site specific, new media installation, "Aesthetics of Decay, Design for Dying Electroncs" embodies the experiences of technological failures - loss of privacy, data, anonymity and memories. Bits and pieces of personal data are lost forever when a phone, computer or hard-drive dies, breaks or malfunctions. New forms of personal losses associated with technology are an escalating problem as individuals become increasingly emotionally, mentally and physically intertwined as the data representing them in a digital society driven to constantly "upgrade" to remain connected. A candid representation of this contemporary yet historical context, Disney Nasa Borg's interactive multimedia installation is comprised of sculpture, mapped projections and multi-channel video converging art, film, music and performance with technology.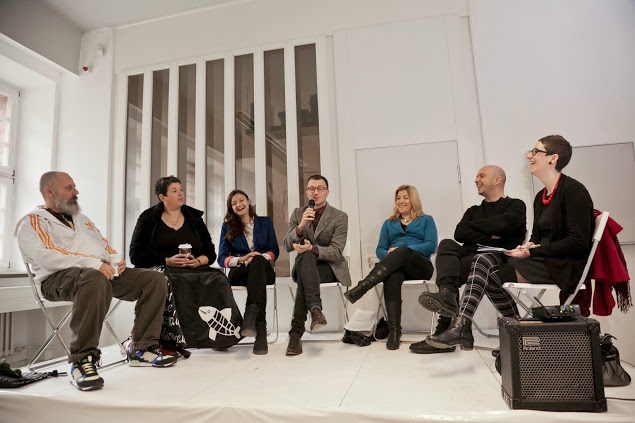 SYMPOSIUM: ART DISCOURSE IN THE DIGITAL AGE
RE:SOURCE/TRANSMEDIALE at THE WYE, 2013
Panelists: Marco Mancuso (Digicult), Tatiana Bazzichelli (Transmediale), Anna Frants (CYLAND), Chatzistefanou Panagiotis (Publisher and Writer), Vanina Saracino (ikono), Marc Poggia (Sensanostra); Moderator: Kate Martin (Contemporary Art Exchange) for CYBERFEST
As virtual audiences swell to unprecedented girth, brick/mortar galleries and print publications are dwindling. Coverage by veteran critics with sway culminated over careers gaining strongholds in traditional sources under echelons of editors is now juxtaposed with the unbridled words and internet's power to disseminate content. Means of archiving art for prosperity has expanded from circulations of print, photographs and slides to files and viral mediums. Art discourse has expanded in form, function and voices. This panel explored new realities and their implications.
Read more... >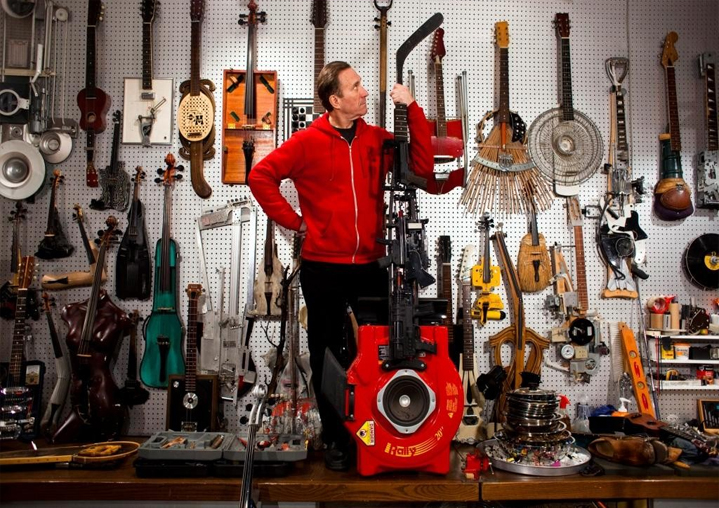 PERFORMANCE: VOICES OF ANXIOUS OBJECTS
performance by Ken Butler at THE WYE, 2013
Ken Butler is a sound artist known for his "Hybrid" instruments exploring the transformation of common objects, altered images, sounds and silence. The idea of bricolage – using what is "at hand" – is at the center of his art, encompassing a wide range of practices combining live music, instrument design, performance art, theater, sculpture, installation, photography, film/video, graphic design, drawing and collage. He is internationally recognized as an innovator of experimental sound which he creates from diverse materials including tools, sports equipment and household objects. He has exhibited and performed extensively throughout the USA, Canada, South America, Japan and Europe including at Stedelijk Museum in Amsterdam, Lincoln Center and The Metropolitan Museum among other important venues. Returning to Germany for the first time in 30 years, Ken Butler performed a free show at THE WYE for CYBERFEST.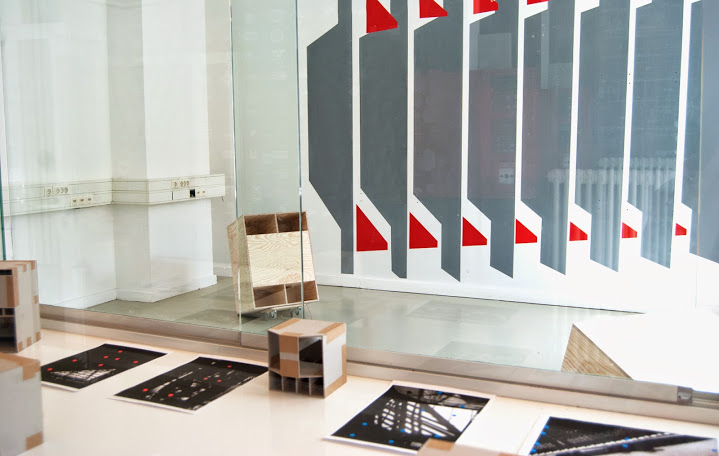 EXHIBIT: OVER AND OVER
artwork by Nicholas Roberts at THE WYE, 2014
Cutting, copying, layering, masking, filling and repeating—the work of Berlin based sculptor Nicholas Roberts is an exploration of the essential elements of collage expanded into three-dimensional space, distorted and deepened. More than meditations on a theme or monuments to an idea, Roberts' work calls to mind the colossal sculptures of Richard Serra, the transformative installations of James Turrell and the experimental scores of John Cage and Robert Morris - distorting and displacing the viewer's sense of himself in time and space, physically transforming the world through the most basic constructive acts of cut, copy, and paste.
Read more... >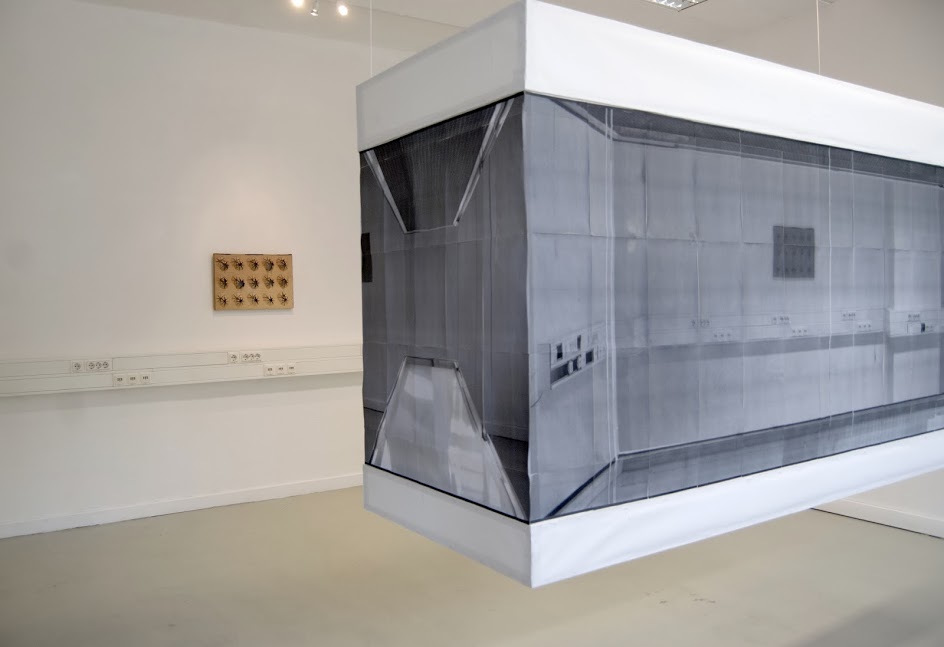 EXHIBIT: SPACE LAPSE
work by Werner and Wüste at THE WYE, 2014
The central work featured in "Space Lapse –The Circumvention of Possibilities" evokes the force and effect of transparency by mounting collaged photographs on a fabricated replica of the gallery exhibited within the gallery. To achieve this, the artists recreated the central architectural feature of the gallery (the large glass vitrine) as a stand-alone object. Inspired by the refractory effect of the tesseract - the four dimensional analog of the cube, Werner and Wüste expand the physical space of the gallery into the fourth dimension. Multiple perspectives are proposed, revealed and renegotiated by the viewer as s/he navigates the installation, experiencing a unique juxtaposition of time, place and space.
Read more... >
MADE POSSIBLE BY SPONSORS LIKE YOU...
Sponsors are the reason why THE WYE ART PROGRAM can provide free access to top caliber exhibitions, performances and lectures - ensuring admission prices do not limit the general public's ability to engage.
THE WYE ART PROGRAM is an initiative of the registered nonprofit,
,UPSILON e.V
. Public cultural programming is housed at esteemed venues locally and internationally.
The 2014 WYE ART PROGRAM was sponsored by: