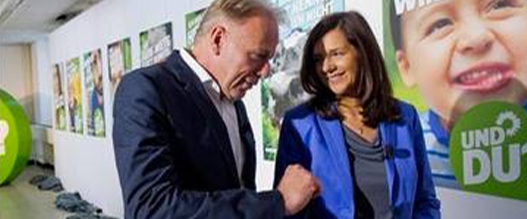 Project: 2013 Election Campaign Launch
Client: BUNDNIS 90 (Green Party)
WYE Services:
– Project Management of Physical Environment
– Logistics (Venues, Staff, 3rd Parties)
– Tech Services

Description:    
– Press conference to launch the Green Party 2013 Campaign
Venue: The WYE / Berlin
Bundnis 90 (The German Green) selected THE WYE to host the kick-off of its 2013  election campaign. Attracting national press, the Bundnis 90 campaign launch was led by Green Party leaders Jurgen Trittin and Katrin Goring Eckardt who unveiled the top 10 election slogans and gave interviews.
With the party's slogans having a reputation as being particularly edgy and on point, the party strategically selected THE WYE as their campaign launch location to mirror the authenticity, integrity, professionalism and community commitment of their political party.
Services rendered by the WYE included the overseeing the physical logistics, tech services, and on-site project management for 3rd parties.