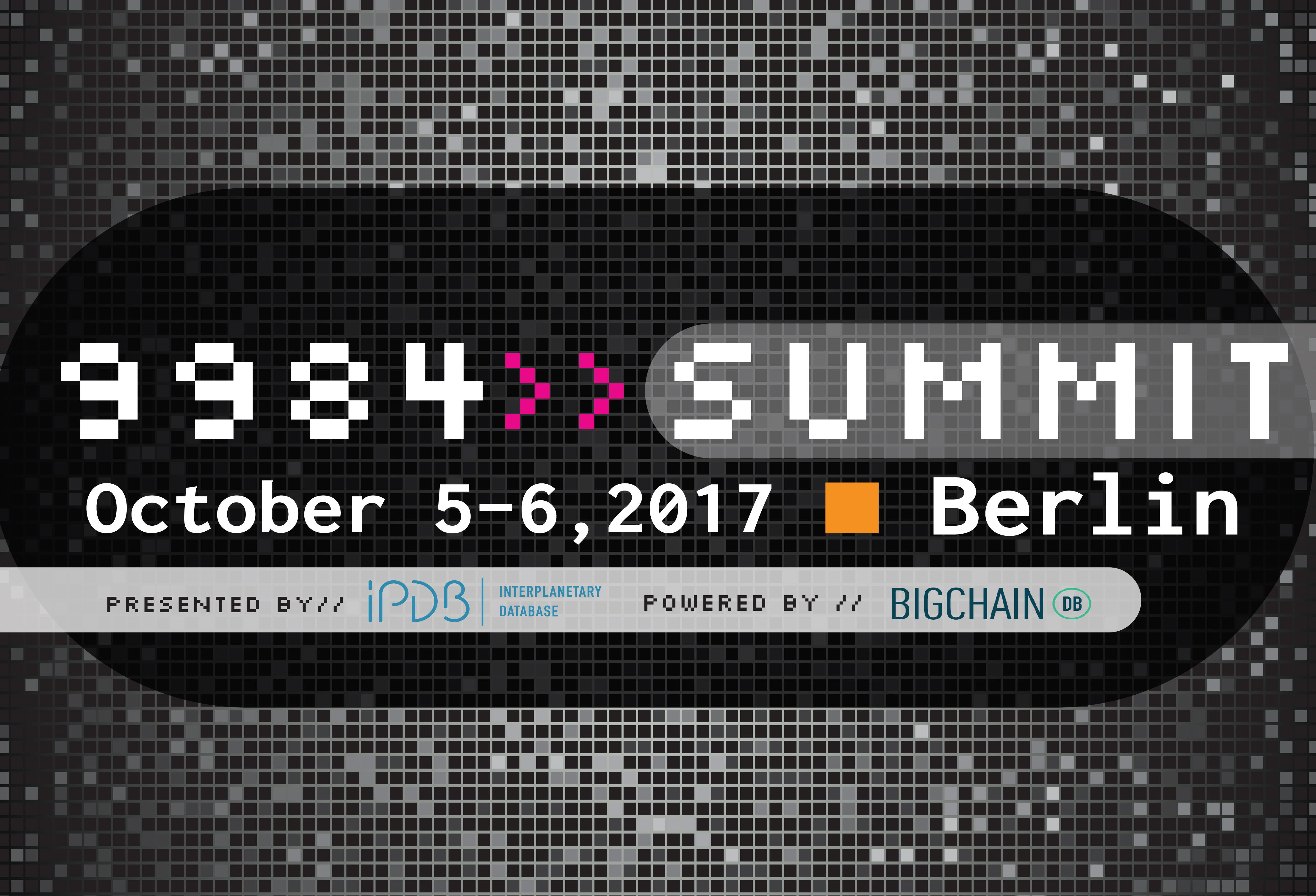 Image Courtesy of BigchainDB GmbH, 2017
Project: 9984 >> SUMMIT

Date: October 2017
Location: Berlin, Germany
Client: BigchainDB and IPDB

WYE Services:
– Branding / Marketing / PR Plan
– Communications Plan
– Internationalization & Community Outreach
– Audience Growth Plan
– Event & Program Content
– Logistics Support (Participants, Venues, Staff, 3rd Parties)
Description:
– Event Consultant brought on to join hosting partners existing team to build and launch a blockchain conference.
Blockchain Industry leaders BigchainDB and IPDB retained THE WYE to conceptualize and bring to realization an inaugural edition of 9984 >> SUMMIT.
As part of work completed, THE WYE developed communication strategy for the event. Content and routes of engagement formats produced by THE WYE included promotional texts for each of the organizing companies, event briefs, press releases, personal invites, mass newsletters, SMM templates, website wireframes and online presence materials, email communications, programming format / data management, video script, and a sponsorship deck, among other components.

Among the work done by THE WYE, in order to create a structure for host organizations to implement a conference, was a deep-dive analysis of existing community :: engagement, identification of gaps in target markets, and the completion of extensive R&D to organize, expand, and activate audience growth. Beyond the event, content strategy was introduced to strengthen the overall effectiveness of messages delivered by the event on behalf of the host companies. Project management tasks ranged from proposing general content processes to setting up cross platform workflow / SEO / SMM streams and inserting items to meet industry or country standards.

THE WYE also used its own network to bring to the event additional resources, including securing 10 venue options willing to serve as event venue partners and bringing to the project Stanford University understudy Robin Willscheidt, who completed legwork for all on the team and served as a invaluable asset in completing work done efficiently and on budget.
Highlights of 9984 >> SUMMIT's programming (October 15 – 16, 2017) are keynotes, presentations, and Q&As from blockchain industry leaders including Jillian York, EFF / Juan Benet, Protocol Labs / David Holtzman, IPDB / Trent McConaghy, BDB / Kaspar Korjus, Estonia Eres / Kei Kreutler, Unmonastery / Vinay Gupta, Hexayurt / Ali Hussein Kassim, KictaNet (IBB) / Anastassia Lauterbach, NED Dun & Bradstreet / Shermin Voshmgir, Blockchain Hub / Dr. Michael Rüther, innogy / among others.

THE WYE worked with organizers to support and include women working in this field – yeilding a program that is 33% female.