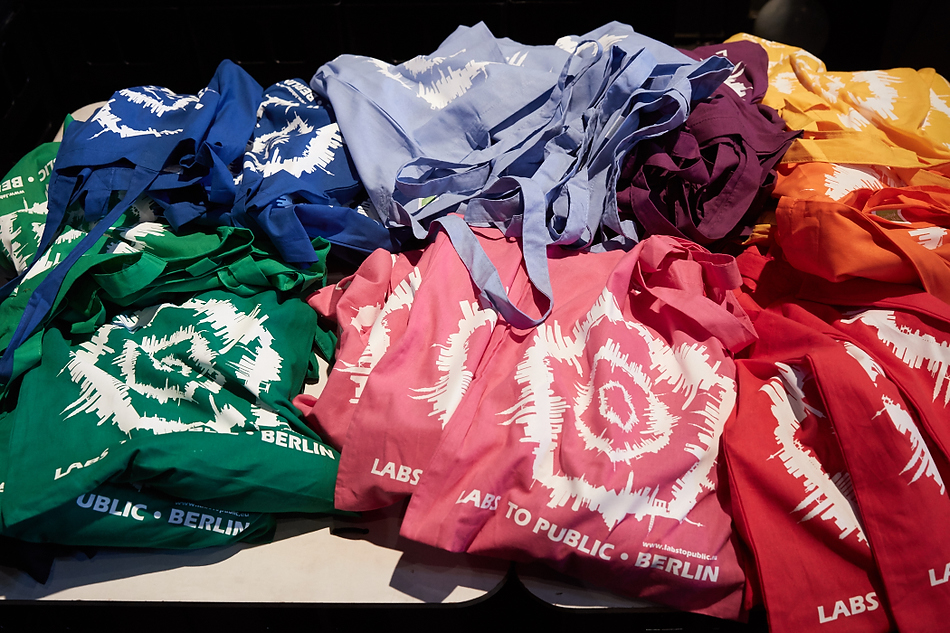 Project: Asian Pacific Week, LABS TO PUBLIC
Client: Senate Department for Economics, Technology, Research; European and International Cooperation
Event Sponsors: Event Partners: TriNet Global, Berlin Partners, Federal Ministry for Economic Cooperation and Development, Connective Cities, Technical University of Berlin, SAP, Projekt Zunkunft
WYE Services:
– Event Concept, Planning and Implementation
– Design (Logo, Print Materials, Event Design)
– Branding / Marketing
– Procuring Talent & Program Development
– Community Outreach
– Logistics (Participants, Venue, Caterers, Staff, 3rd Parties)
– Budgeting
Description:
– Private 2 day event for 150 International VIP guests
– 2 venues: 2 stages, 3 workshop rooms, 2 reception areas, 2 lounges
– 20 hrs of programming with 80 speakers and interactive workshops
– 5 catered meals
Venues: Platoon Kunsthalle; The Factory
THE WYE was retained by the German government to create a unique, interactive private event which included a participants' dinner, barcamp/future workshop, lecture series and results presentation. Pulling from their own personal network, THE WYE worked with the Senate to select 150 VIP guests from across Asia and Germany representing leadership in the fields of science, entrepreneurship, civil society and the public sector to prototype cross-disciplinary visions for incorporating innovation into the cities of tomorrow.
After overwhelming interest in the run-up to the event, 50% more seats and 50% more programming were added to accommodate the large number of RSVPs, which exceeded the client's standard event response rate significantly.
Highlighted attendees / speakers included: Danilo A. Songco (PinoyME Foundation), Adi Panuntun (BCCF Innovation and Technology Division), Matthew Lock (Shareasia.org), Jacqueline Fong (Tanoti), Pei Albrecht (ALBA), Dr. Johannes Bruder (Rocket Internet), Prof. Dr. Malte Behrmann (BBW Hochschule Berlin), Ambassador H.E. Melita S Sta. Maria-Thomeczek (Republic of the Philippines), Eitel (Wangdao Alliance, ExA Summit Berlin-Taipei), Steve Leonard (Infocomm Development Authority of Singapore), Sayaka Watanabe (Asian Women Social Entrepreneurs Network), Richard Hsu (Pan-Asia Network), Prof. Ulrich Weinberg ( HPI D School), Barbara Fischer (Wikimedia e.V.), Nadine Bruder (Kickstarter Germany), Chi Dao (Centre for Social Initiatives Promotion), Stephen Goldsmith (Former Dept Mayor NYC, Harvard Kennedy School), Dr. Rainer Seider (Asia-Pacific Forum Berlin / Berlin Senate), Christian Gaebler (Permanent Secretary of State, Berlin Senate), Christine Roque (Change.org), Karndee Leopairote (Casean), Dr. Chanrith Ngin (Royal University of Phnom Penh, Cambodia) among others.