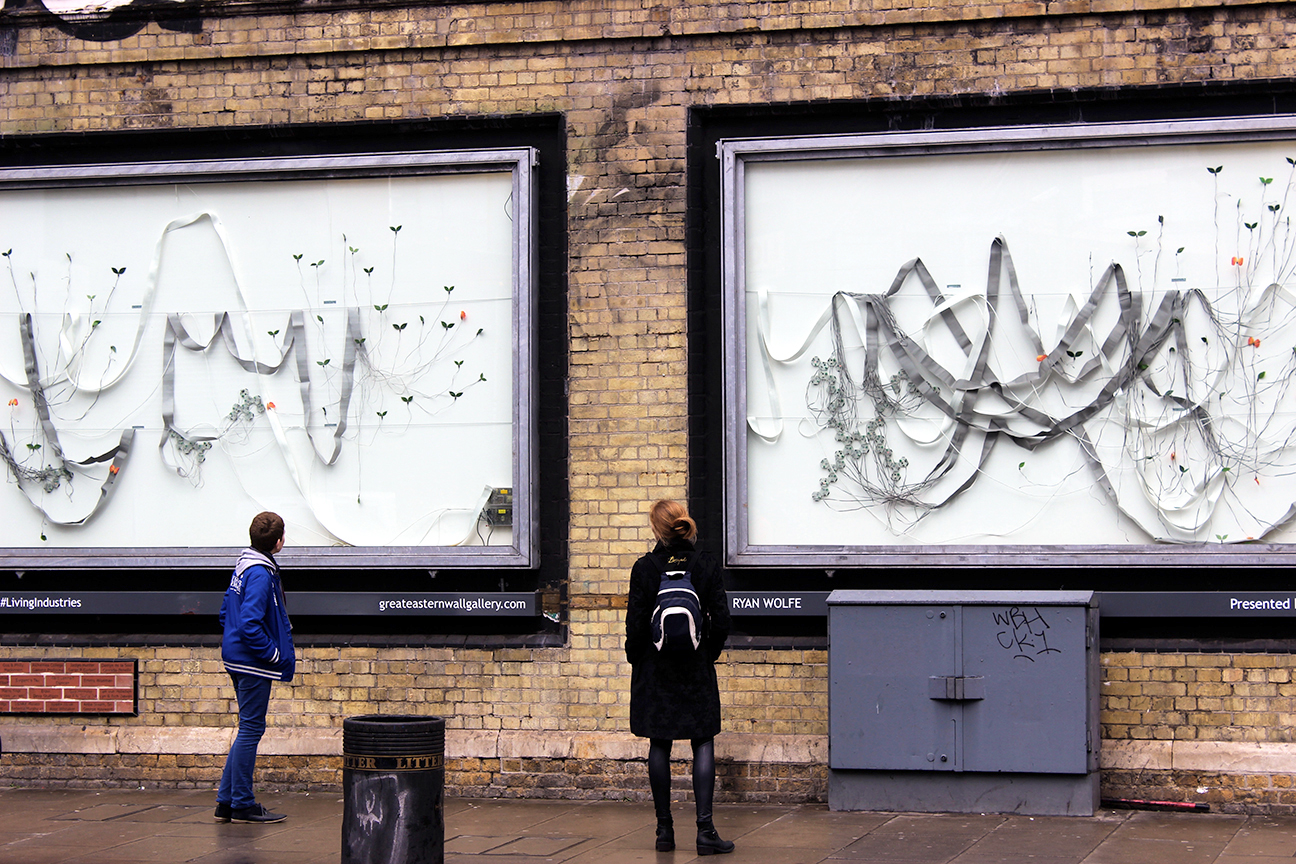 WYE Services:
–  Curation
— Internationalization & Community Outreach
– Project Management
– Event & Program Concept, Planning, Implementation
– Branding / Marketing / PR
– Procuring Talent & Content Development
– Logistics (Participants, Venues, Staff, 3rd Parties)
– Budgeting
Description:
The first ever New Media street art installation ever to be presented on the iconic Great Eastern Wall in conjunction with Village Underground and Convergence
BRANCHING SYSTEMS AT THE GREAT EASTERN WALL:
Branching Systems explores Edward Lorenz's famous "butterfly effect," which signaled the beginnings of modern Chaos Theory. The artwork demonstrates how small variations in the initial condition of nonlinear dynamic systems may produce large variations in the long-term behavior of the system.
The Installation is inherently interactive: the viewer's physical presence is a (but the only) catalyst for the physical movement within the artwork. Viewer's actions ripple across the piece's custom-configured network of robotic leaves like the wind, causing Branching Systems to flap faster and with a different rhythm.
The site-specific configuration of the system at the wall evokes the kind of structural adaptability that is the hallmark of all natural systems, but one that is not often seen in the complex technology-based systems that humans create. Branching Systems, like much of Wolfe's other work, seeks to create a new yet familiar embodied language that integrates the syntax of 21st century technologies and materials with the semantics of a more timeless shared human experience.
About the Artist
Working in San Francisco as artist / founder of Living Industries, Ryan Wolfe uses technology to design interactive systems reminiscent of – yet completely separate from – the natural systems upon which they are based. An internationally renowned New Media artist, Wolfe's work has been Hermitage Museum in St Peterburg, Oriental Pearl Tower in Shanghai, EHalle in Basel, Contemporary Istanbul, The Dovzhenko Film Studios in Kiev, Centrequartre in Paris, IMOCA in Indianapolis, ARTPLAY in Moscow, Roppongi Hills in Tokyo, and other top venues around the world. His installations are in high profile collections ranging from D.E. Shaw in New York City to the 21C Museum in Cincinnati. Wolfe's artwork has been featured in hundreds of articles including Rhizome, Chinavisual, Art Review, Sculpture Magazine, DVICE, Cool Hunting, Art Paper, NYArts, Kunstaspekte, RT, NY Observer, Artinfo, Artnet, GQ, Elle and many more.