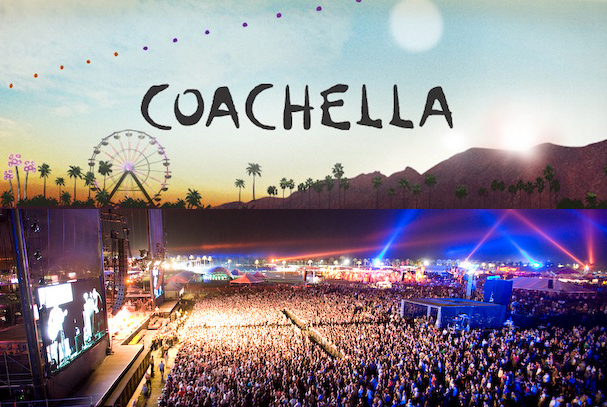 Project: Coachella
Client: Goldenvoice
WYE Services:
– Planning, Design, Installation of Interactive Art / Tech Installations
Description:
– Delivery of Creative Envornment for Annual Global Music Festival
– Week long Public Art installation for 500,000 visitors
– Adapted for outdoor, desert climate
Venue: Empire Polo Club
The founder of THE WYE was asked by Goldenvoice (Anschutz Entertainment Group) to provide art installations for Coachella, one of the world's largest music festivals held annually in the California desert. The event's co-producer and art director commissioned THE WYE's Leah Stuhltrager to provide art that fit the site as well as the crowd. Coachella presents unique challenges. The desert setting and scale of Coachella's crowd (reaching over 500,000 visitors) warrants safety, maintenance and durability concerns when considering how best to rise to the occasion. Additionally, artwork needed to be visually engaging during night and day without additional lighting.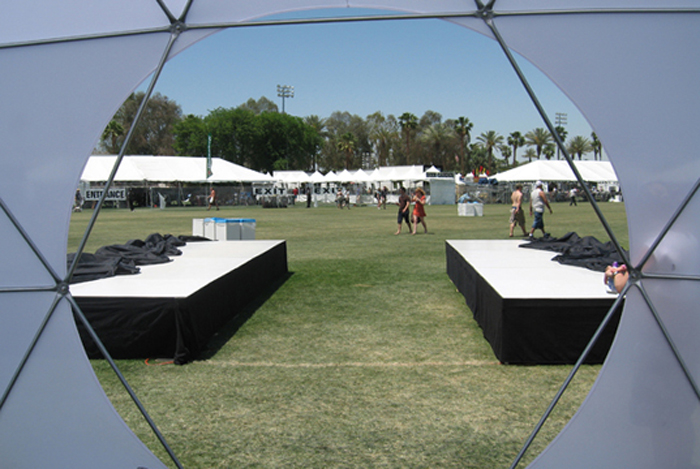 1. Brose Partingon's "Tide" (Installed for Coachella with a length of 40m, Partington's series of black robotic waves offered viewers the feeling of venturing into another place and time. The artist's installation draws from theater in its most earnest, classical sense. The audience must actively navigate, respond to, manipulate their way through "TIDE" to enter or leave. As in a play, the sculpture's seemingly subtle, natural movements are programmatically staged.)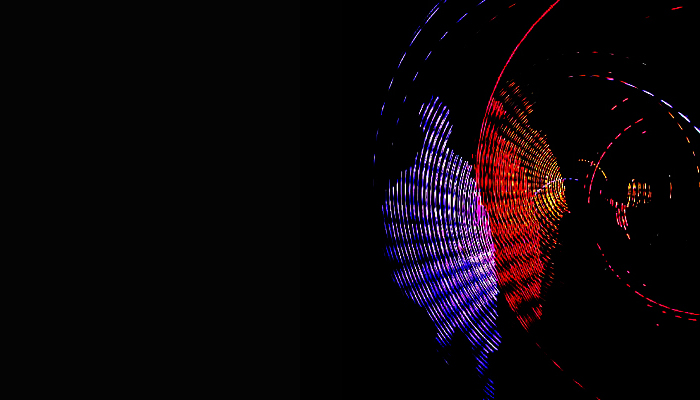 2. Mark Esper's "Enlightment" (In "Enlightenment", a viewer encounters three spinning vanes of red, blue and yellow LEDs. The veiwer's shadow is cast on the spinning vanes, revealing their silhouette in light. The person casting the shadow sees the image as a cohesive whole while others see the image as three separate, suggesting that we see ourselves in a different way than others see us. Creating a pun with the term Enlightenment, the work lights up, and so does the viewer.)
3. Mark Esper's "It's In The Air" (In "It's in the Air", a large squirrel cage blower keeps a 2ft orb aloft. Stabilized by the Bernoulli effect, small wings and vanes help it soar higher and spin. While airborne, twelve blue lamps engage inside the orb in the opposite direction of the spinning creating a sophisticated visual trick suggesting the conceptual complexity of even simple actions.)
Artists that played on stages beside these installations include: Willie Nelson / Björk / Jarvis Cocker / Gogol Bordello / Interpol / The Jesus and Mary Chain / Peaches / Sonic Youth / Rufus Wainwright / Amy Winehouse / Lily Allen / Manu Chao / Crowded House / Grizzly Bear/ Happy Mondays / The Kooks / The Lemonheads / Placebo / Rage Against the Machine / Ratatat / The Roots / Arcade Fire / The Black Keys / Blonde Redhead / The Decemberists / Hot Chip / Kings of Leon / LCD Soundsystem / MSTRKRFT / Peter Bjorn and John / Red Hot Chili Peppers / Regina Spektor / Tiësto.