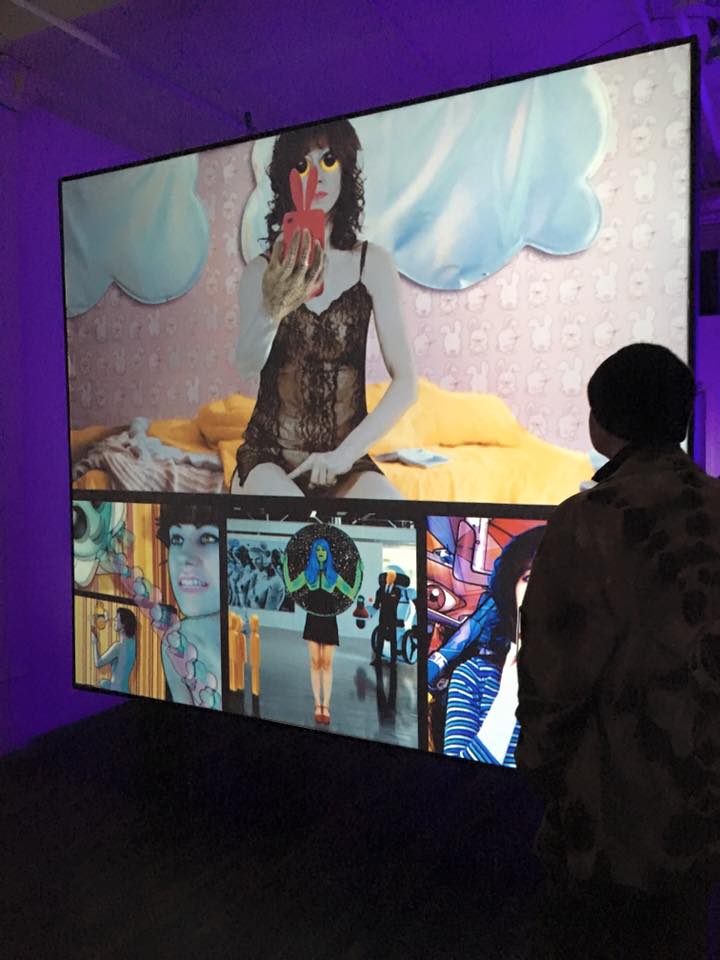 Images Courtesy of Carla Gannis
Project: Carla Gannis Media Wall at the Made in New York Media Center by IFP
Date: December 2016
Location: Made in New York Media Center by IFP
Client: CYLAND Media Art Lab
WYE Services:
–  Curation
— Internationalization & Community Outreach
– Project Management
– Event & Program Concept, Planning, Implementation
– Procuring Talent & Content Development
– Logistics (Participants, Venues, Staff, 3rd Parties)
– Budgeting
Description:
Public Installation featuring new work from Carla Gannis in conjunction with CYFEST NYC
In conjunction with the New York premier of CYFEST 10's Digital Media Program, Carla Gannis was invited to create a public art installation at the Made in New York Media Center by IFP. 
ABOUT THE INSTALLATION:
"A Subject Self-Defined" is a new body of work from Carla Gannis that addresses issues of branded identity; age and body estimation; catastrophe culture; and online agency via static, dynamic and interactive "selfie" imagery. In 'A Subject Self-Defined,' the viewer is provided multiple vantage points that traverses various forms of self-portraiture and mixed-media methodologies. Her series converges a wide array of technologies – drawing, painting, animation, social media, and augmented reality – together to serve as the artist herself re-represents herself." – Dorothy Santos, 2016
ABOUT THE ARTIST:
Carla Gannis lives and works in Brooklyn, New York. Since the late 1990s, Gannis has incorporated net and digital technologies into her art – garnering awards including a NYFA Grant, an Aljira Art Center Fellowship, and a Chashama Studio Award. Her work has been exhibited extensively and has been featured in The Creators Project, ARTnews, The Wallstreet Journal, The Huffington Post, Hyperallergic, Art F City, Art CriRcal, The New York Times, The LA Times, The Miami Herald, The Daily News, The Star Ledger, Animal and The Village Voice, among others. An acRve arRst and member of the new media community, Gannis is currently Assistant Chair of Digital Arts at Pratt Institute in Brooklyn.