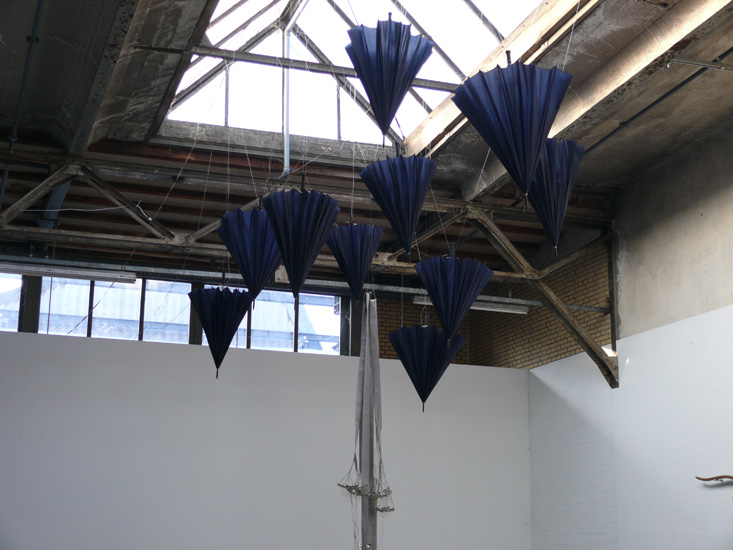 Images Courtesy of Ryan Wolfe
Project: Ryan Wolfe's "Pneuma" at the Academy of Art and Industry, St. Petersburg
Date: January 25, 2017
Location: The Academy of Art and Industry, St. Petersburg
Client: CYLAND Media Art Lab
WYE Services:
–  Curation
— Internationalization & Community Outreach
– Project Management
– Event & Program Concept, Planning, Implementation
– Procuring Talent & Content Development
– Logistics (Participants, Venues, Staff, 3rd Parties)
– Budgeting
Description:
Art and Technology Installation at the Academy of Art and Industry in St. Petersburg
To celebrate the 10th Anniversary of CYLAND Media Art Lab, pioneering new media artist Ryan Wolfe was invited to stage a monumental installation at the famed Academy of Art & Industry in St. Petersburg, Russia.
ABOUT THE ARTWORK:
In Ryan Wolfe's biometric installation, "Pneuma", a mechanical sculpture articulates from afar the artist's breathing and heartbeat in real time. A tangible manifestation of a human's vital signs – the rhythm of the artist's breathing materializes in the opening and closing of suspended umbrellas as his heartbeat appears as pulses of fluttering lights. Linking the creator to creation, sensor devices monitor the artist's physical system, generating data which is transmitted by Bluetooth / cellular wireless and microcontroller interfacing from anywhere to the installation site. PNEUMA explores the ephemerality of life, relationship of modern science to mortality, and questions the future of physicality by turning absence into presence; synchronizing life in one location to another space.
ADDITIONAL BACKSTORY TO "PRESENCE" THEME / RELATIONSHIP TO CYBERFEST:
Ryan Wolfe created this installation so that in body he could physically be present in two places at one time. He uniquely faced the privilege of being a featured artist at E-Halle during a timeframe he was committed to installing his artwork at CYBERFEST in St Petersburg, Russia. In showing "Pneuma" at E-Halle, Wolfe become an early adapter to incorporate a biometric proxy in art – contemporarily adding to historic inquiry of relationship between creation – creator. Nearly a decade later as the dawn of artificial intelligence emerges, the installation will be updated and placed in the great hall of St Petersburg Academy of Art and Industry – the place known to create cultural artists / technology engineers in the city where the artist originally sent data to afar from.
AOUT THE ARTIST:
Ryan Wolfe uses his hybrid background in art and technology to design interactive systems reminiscent of – yet completely separated from – the natural systems upon which they are based. An internationally renowned New Media artist, Wolfe's work has been Hermitage Museum in St Peterburg, Oriental Pearl Tower in Shanghai, EHalle in Basel, Contemporary Istanbul, The Dovzhenko Film Studios in Kiev, Centrequartre in Paris, IMOCA in Indianapolis, ARTPLAY in Moscow, Roppongi Hills in Tokyo, and other top venues around the world. His installations are in high profile public collections including D.E. Shaw in New York City and the 21C Museum in Cincinnati. Wolfe's artwork has been featured in hundreds of articles such as Rhizome, Chinavisual, Art Review, Sculpture Magazine, DVICE, Cool Hunting, Art Paper, NYArts, Kunstaspekte, RT, NY Observer, Artinfo, Artnet, GQ, Elle and many more. In 2016, Wolfe became the first tech based artist selected to do an installation for London's iconic Great Eastern Wall.